Book Review: Gracefully Grayson by Ami Polonsky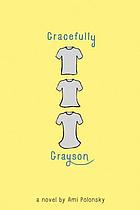 I found this cutie in the kids' new books section at the library. Basically, 12 year-old Grayson was born a boy but feels like a girl on the inside. In this 243 page children's novel, Grayson deals with various life crises, blossoms in new ways, and faces some hard truths about the world.
I'm all for children's books that navigate the tricky paths of gender identity and difficult social situations. This one not only does so (ahem) gracefully enough, but also ends on an uplifting, hopeful note that will be desirable to its audience of 10-13 year old kids. If a queer kid (or future queer kid) happens to come upon this book, he or she will probably feel both relieved and empowered. I would have.