Express Book Review: Rebels by Accident by Patricia Dunn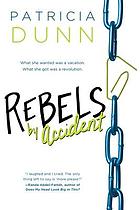 Epic YA fiction! American Teenage Mariam is sent against her will to live for a while with her grandmother in Egypt. She is initially pretty bummed to leave the only life she knows (her peers at school have given her lots of crap about being Egyptian-American, so she carries a heavy dose of self- and cultural distaste). It turns out her grandmother isn't bad and there's lots of stuff to do (as well as some time for self-discovery, first love, first adultish independence, etc). But shit kind of hits of the fan due to the revolution going on (as well as some other stuff), and lots of growing has to be done. Amidst a great story, the book also subtly does lots of good work to dispel stereotypes about the Middle East and Arabs and Islam.
I haven't seen one quite like this before; you should Check it out!