Express Book Review: Yo, Miss A graphic Look at High School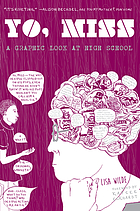 Rad!
Lisa Wilde taught for a bunch of years at a NYC high school for students who the mainstream system wasn't working for. This zine series-turned-book is all about her time teaching and interacting with her students. Like any interaction with teens, there are moments that are hilarious or uplifting– and moments that are fucking tragic.
It's nicely drawn and compellingly put together, and I found myself bummed when I reached the last page in less than an hour or two. Thematically, it reminds me a little bit of Truckface (which is a really great zine), but we don't hear as much about the protagonist. Get it and read it!!