Express Book Review: ECHO by Pam Munoz Ryan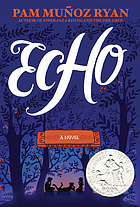 If you want to talk about an epic 2015 children's book that is simply SCREAMING to be taught at school so it can wedge its way into our culture just like The Giver did 20 years ago, start talking about Echo by Pam Munoz Ryan. You may as well read it now, because you're going to be hearing a whole lot more about it (if your daily life involves children's/YA lit).
My only complaint is that the end isn't super believable if you're an adult– but that's only like 30 pages of around 500. Ignore my complaint for now if you want to be surprisingly impressed with how far you will be taken the story of a sort of magical transcontinental harmonica (for real) that affected some kids' lives at pivotal times in history. I was particularly impressed with the amount of historical research that seemed to go into this book.