Express Book Review: We Need New Names by NoViolet Bulawayo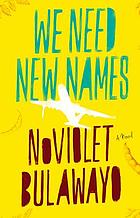 Everyone is going to love this book.
I thought it was awesome, and have been recommending it to library patrons like crazy.
The basic plot is that Darling and her peers grow up in a shantytown in Zimbabwe with memories of the past (when they had school and food and before their town got bulldozed to make way for fancy rich people houses) and dreams for the future (move to America or to the fancy rich people houses that were built atop their old neighborhood). The surprisingly plucky and resilient kids (despite some pretty gnarly circumstances) steal fruit from the rich, play games in the dirt, and have some surprising impressions of their sparse interactions with NGO workers. It's simultaneously heartbreaking and warming, told in really talented writing.
Eventually Darling moves to America to live with her aunt. Her new life has shelter and indoor plumbing and plenty of food- but there is a whole slough of new issues for Bulawayo to skillfully tell the story of. For reals, just check out a copy.