Express Book Review! Undead with Benefits by Jeff Hart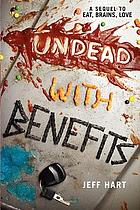 Zombies that you want to be friends with (if they're not hungry)!
So this is the sequel to EAT BRAINS LOVE, which I briefly mentioned a little while ago. Book 1 ended in a precarious place, our protagonists on the run. Book 2 continued at the same speed and took us into new states, different kinds of societies, and a few new kills (duh. it's a book about zombies). Book 2 got better at giving the female protagonist some dimension (her story was kinda flat in book 1), which was a good thing. I would complain that that there wasn't enough closure, but I have the sneaking suspicion that another book might be on the way.