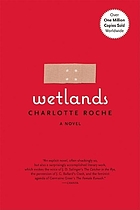 This novel is pretty obscene! The general plot is that an ass-related shaving accident lands our 18 year-old female protagonist in the hospital and follows both her memories leading up to the present– and intermingles them with her present behavior in the hospital.
My initial reaction is that the book was written wholly to shock– there's something shocking, super-sexual, cringe-worthy or "dirty" (both the literal and figurative meanings) on pretty much every page (literally). You know that feeling you get from watching the "Two Girls, One Cup" or "Tub Girl" videos online, right? (e.g. one thing that our protagonist allegedly likes to do is pull out a tampon, wipe it on the ground, and then pop it back into her vagina). Every page is like that. It felt a little tiresome– almost as if the author was trying too hard.
But then I thought back to the description that I originally read that lead me to acquire this book (where is it, I don't know). It was all about chucking traditional notions of feminine behavior and unreasonable expectations of feminine chastity and cleanliness and reclaiming sexuality and bodies– and that helped me think of it more as an artistic or political statement. So now I'm thinking that the book might be a little genius even if it was totally intense to read?
Get a copy here.
---
---
---
---
---
---
---