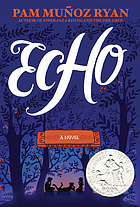 If you want to talk about an epic 2015 children's book that is simply SCREAMING to be taught at school so it can wedge its way into our culture just like The Giver did 20 years ago, start talking about Echo by Pam Munoz Ryan. You may as well read it now, because you're going to be hearing a whole lot more about it (if your daily life involves children's/YA lit).
My only complaint is that the end isn't super believable if you're an adult– but that's only like 30 pages of around 500. Ignore my complaint for now if you want to be surprisingly impressed with how far you will be taken the story of a sort of magical transcontinental harmonica (for real) that affected some kids' lives at pivotal times in history. I was particularly impressed with the amount of historical research that seemed to go into this book.
---
Before I gush about the fact that this book was pretty awesome, I want to point out that it was written by Sonia Manzano. Ring a bell? Didn't for me either. I was too young to read the credits. How about Maria from Sesame Street? Bingo!!!
So The Revolution of Evelyn Serrano is historical fiction that takes place in Spanish Harlem in 1969. Our protagonist is 14, just working her first job outside the family's bodega at a nearby Five and Dime. She's always been used to the conditions of where she lives– but suddenly a new group The Young Lords (a Puerto Rican activist group) come to the neighborhood and starts talking about how bad the conditions are, and is trying to get the locals to protest with them. This book is awesome! It has all kinds of stuff going on– a difficult family history that was on both sides of a revolution, good writing, racist cops, clear ideas about the effects of poverty, coming of age, ambiguity about "good" or "bad," learning about one's culture, etc. The protagonist is smart and perceptive and interesting and her family is believable.
The book is being marketed to "Juvenile" readers (probably 5th to 7th grade), and I'm not sure that all the readers will "get it" outside of a classroom– but it's still quite a good read regardless of your age.
---