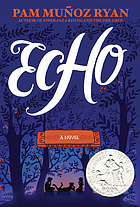 If you want to talk about an epic 2015 children's book that is simply SCREAMING to be taught at school so it can wedge its way into our culture just like The Giver did 20 years ago, start talking about Echo by Pam Munoz Ryan. You may as well read it now, because you're going to be hearing a whole lot more about it (if your daily life involves children's/YA lit).
My only complaint is that the end isn't super believable if you're an adult– but that's only like 30 pages of around 500. Ignore my complaint for now if you want to be surprisingly impressed with how far you will be taken the story of a sort of magical transcontinental harmonica (for real) that affected some kids' lives at pivotal times in history. I was particularly impressed with the amount of historical research that seemed to go into this book.
---
Bad for you : exposing the war on fun!
By: Kevin C Pyle and Scott Cunningham
AHHHH! This book is awesome!!!
The stuff that young people like has so often been vilified by parents, schools, and the mainstream media. And the vilification had been fear-driven, over-the-top, and totally needless.
Bad For You combines well-compiled history, alluring illustrations, smart one-liners, nicely drawn comics, and really excellent research that points out contradictions and nicely shreds historical fear mongering  about all kinds of stuff including comics, video games, play grounds, and zero tolerance policies. The whole of the piece is a testament to the historical and present American mistrust and mistreatment of youth– it's totally great. I read it straight through.
Find a copy here!
---
This book got pretty famous. The NYT and Booklist and all the other respected reviewers were super into it. A simple google search will lead you to these reviews, and there are many!
My life wasn't changed. Without doubt, it is sometimes absolutely is beautifully written; there are sentences that are like "omg wtf did the author just do!" It also defies certain conventions, both structural and  plot-wise: time in this book is not always linear, and it's neat that the protagonist is a 1970's woman who makes art and races motorcycles. Sweet.
But as a "Millennial" reader, I felt in over my head. Were the art world characters in the book based on people in real life? Does our protagonist know more than she lets on? There's a substantial amount of banter between supporting characters– does any of it matter? Are all of the characters mere shells that are intended to convey a message/critique of a time/scene rather than a story? Also, pace. and sense of place were not as expected, and  was this intentional?
I cracked open the book hoping to become BFF's with the main character, Reno. But she didn't have enough dimension. I took over 2 weeks to read this book, as the magnetic appeal was not there for me.
Still, a vast amount of information was provided within this 400-page book. The people (mostly 40+) in my book club really loved it. It has awesome sentence structure and an unusual style. Give it a try!
---