Welcome to a new mini series: the Express Book Review!
This mini series may also be known as: I read a bunch of books but also got really busy and didn't have time to give them proper reviews, but also though people should know about them…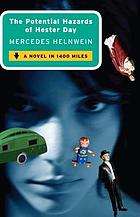 The Potential Hazards of Hester Day was nuts. I chose-a-book-by-its-cover on a mad dash on my way to catch a train, and it turned out totally awesome. Our protagonist is bizarre, quirky, and smart– in a  relatable, but not always entirely admirable way. The plot and characters are kind of absurd– yet at the same time, they're not. There is a marriage, public libraries, marriage, accidental-on-purpose child abduction, a first crush/love. All kinds of good stuff.
---
---
---
---
---