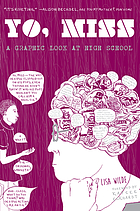 Rad!
Lisa Wilde taught for a bunch of years at a NYC high school for students who the mainstream system wasn't working for. This zine series-turned-book is all about her time teaching and interacting with her students. Like any interaction with teens, there are moments that are hilarious or uplifting– and moments that are fucking tragic.
It's nicely drawn and compellingly put together, and I found myself bummed when I reached the last page in less than an hour or two. Thematically, it reminds me a little bit of Truckface (which is a really great zine), but we don't hear as much about the protagonist. Get it and read it!!
---
I'm going to be honest: I totally read the Uglies series a few years ago and loved it.
I found So Yesterday while trolling the teen shelves, remembered the author's name, and got excited. The premise is sort of neat: there are people amongst us in our cities whose paid jobs it is to set different fashion trends. Our teen protagonist is one of them. Everything is smooth sailing until one day he meets a girl, they go on a crazy fashion-fueled sort of dystopian bizarro adventure, and some nutty, worth-reading-about stuff happens.
The book's from 2005, so some of the technology and the cultural references are a little dated, but as an adult, that was fine for me. It might be a little baffling for modern teens.
---
I have been reading so much but not posting as often! I blame job, travel, summer, and illness.
I'm still kinda sick (immense ear pressure– ouch!)– and on my way out the door to work, so I've quickly grouped together two of the recent "best seller" types that I've read.
The Interestings by Meg Wolitzer
This is  one of the more stylish book covers I've seen in a while. It was in my bag one day and it matched a bunch of the other things in there (zipper pouch, glasses case…). And as a reader, you really get a lot of "value" from this single volume. Basically, the story starts back in the 1970's at arty summer camp, and follows a select few of the campers (who have all kept in touch) into adulthood in the present day. I don't think I felt the passion that the author wanted me to feel, but I still enjoyed reading about most of the interesting things that happened, and getting hyper-personalized peeks into characters' lives. I felt like some of the plot devices were kind of trite and draggy, but again, all the different little parts were compelling and well-written enough that I will still be recommending this book to people as something nice to read on the plane/beach/park/lunch break.
get a copy here
All Fall Down by Jennifer Weiner
I'm usually silly-obsessed with Jennifer Weiner's books. They're full of little pops of brilliance and allusions to contemporary pop culture and they have a delightful really personal feel that makes you really, really love the protagonist. All Fall Down has some of that. But it's about painkiller addition, which is a kind of ugly subject that nobody's really talking about. It's the story that nobody really wants to read: privileged white woman has a lot going on, gets hooked on pills, hits a pretty ugly bottom, goes to rehab, and starts to get a little better.
But it's a solid story, and a culturally relevant one. And I think that it takes someone with the mainstream clout of Jennifer Weiner to get a book like this out to the world on a mainstream publisher.
I don't mean to say that it's a drag to read– I read it in about a day; I put off doing other "important" and "fun" things because I wanted to find out what happened next. It's a good book. Just different from her other stuff. Find a copy here.
---