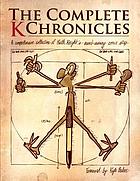 Omg, omg, omg Keith Knight is totally awesome.
I got into his comics a few years back (let's be honest, it was more than a few. It was the Bush (#2) era), bought a couple of his books at the Anarchist Book Fair and a library reading, read them and reveled in their awesomeness, and then, naturally, got distracted.
The Complete K Chronicles is a compilation of a few books and weighs in at 510 pages and contains strips from 1993 – 2004. Knight Takes Queen is a single book and was published in 2014. They're both so good!
Knight has a really exciting and unusual ability to mix politics, potty humor, and pure heart– for example, he'll be writing about violent racist cops in one panel, and the joy of yummy food in the next. Oh, and you're laughing for both (even though sometimes it's an LOL!, and other times it's a resigned, head-shaking omg he's so right, ain't that tragic kind of laugh.
We should totally support rad cartoonists; of course check your library (and check the items out! Shelf-sitters (i.e. books that don't get checked out) often get weeded when library shelf space is limited! Do your part to keep good stuff in the libraries)– but also buy his books and art! You can most easily do this on his website (which also has more comics!).
---
---
---
---