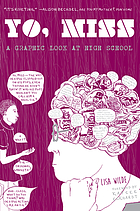 Rad!
Lisa Wilde taught for a bunch of years at a NYC high school for students who the mainstream system wasn't working for. This zine series-turned-book is all about her time teaching and interacting with her students. Like any interaction with teens, there are moments that are hilarious or uplifting– and moments that are fucking tragic.
It's nicely drawn and compellingly put together, and I found myself bummed when I reached the last page in less than an hour or two. Thematically, it reminds me a little bit of Truckface (which is a really great zine), but we don't hear as much about the protagonist. Get it and read it!!
---
This anthology was the most enjoyable 360 pages that I've read in a long while. At some other point I've reviewed Truckface zines on this blog (you can use the little search box up top to find them); I totally dug them then, and my "digging" continues. The anthology includes Truckfaces #7 – #11, and it will make you really happy if you like TMI perzines that are all about, you know, life and growing up and stuff (through a pretty much anarcha-queer, feminst, gender fucking lens).
The content follows LB from working shitty retail and food jobs, all the way up to working in a high school. I could totally relate, as I've worked lots of shitty retail and food jobs– and I've recently moved up to jobs in high schools and public libraries. It was written in real-time, so there's all kinds of good messiness. But it's also really well-written, and you won't be like "Whaaa, where'd the rest of that sentence go." Some of the sentences are like, whoa.
A++. Buy a copy from Mend My Dress Press. It's $19 and totally worth it. But if you can't handle the $19, you can also get #16 for $3 from Antiquated Future, and probably some of the other ones from other places.
---