---
---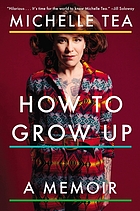 I've been thinking a lot about growing up lately. My 30's have been entered. My mindset and lifestyle might be a figurative punk house, but I have the kind of jobs that grownups get, there's some money in my savings account, and my hair is dyed a single color and cut relatively symmetrically. I shop from the grownups section of the thrift store and I own practical "work" shoes that had triple-digit price tags (before I got them on sale! ha!)
My late teens and early and mid-twenties were speckled with Michelle Tea's plethora of writing and literary events around San Francisco. She was writing about lives like mine ( but in a really smart and creative way that made things like being dead broke or having mice seem a little romantic even when it was the worst), and was also cultivating this crazy extensive movement of writers in similar boats in the turbulent waters of unlikely to be published in the mainstream. I learned about so many awesome artists and writers! Thanks dude! My life is so much richer with all your work!
So I was really excited when I learned that How to Grow Up was coming out. It's her first on a mainstream publisher, so I was really interested to see what this meant for an otherwise mostly indie and small press kind of author. I went to the book release event, bought the book, read it. Some of the chapters are ridiculously awesomely written! They are hilarious and relevant and poignant and all that. The book it "worth" the $ for those alone. My impression is that other chapters (none are bad, but some I wouldn't consider "required reading") might be a result of some weird thing with the publisher or the editor or something who was like "write me a whole chapter about XXXXXX" (even if there maybe needn't be a whole chapter). Or "give me X more pages in this section!" There was also a weird inconsistency between the chapters re: how openly queer they were. It's hard not to see everyone's business in a small place like San Francisco, so I knew who many of her pseudonymous characters were standing in for– and Tea has the right to write a memoir however she wants to– but I had the distinct feeling that there may have been some editor action making sections seem way more hetero than they were originally intended to be– in an attempt to make the book more broadly appealing. I'm sure this happens all the time in publishing, but.
But over all, it was good! Check it out!
---
---
---
---
---
---
---
---
---
---
---
---
---
---
---
---
---
---
---
---
---